Why a Career in Security is the Next Big Thing?
Today, data is at the epicenter of every modern business decision-making. With the effective use of data, companies can make informed decisions based on statistical numbers, facts, and detailed insights. From startups to global conglomerates, data is significant for businesses of all sizes. Therefore, the data that a company collects, stores, and exchanges is undoubtedly an asset that needs to be protected from unauthorized access.
However, with the COVID-19 outbreak, the security of data has been at stake. The year 2020 proved to be a stellar year for cyberattacks, phishing malware, DDoS attacks and data breach incidents. Taking advantage of the human distraction and widespread adoption of remote work during the pandemic, hackers made their way easily into the weakly protected doors of corporate systems causing data and financial loss. Supporting the fact, IBM reports that remote work increased the average cost of a data breach by $137,000.
The shift to remote work culture was sudden, and companies were not prepared for it. Moreover, workers lacked awareness of best security practices while companies did not have proper security measures deployed in home networks. In 2020, as per the Malwarebytes' Enduring from Home: COVID-19's Impact on Business Security report, remote workers caused almost 20% of cybersecurity incidents.
Here, the question arises how to ensure data security amid the coronavirus crisis? Will companies continue to lose valuable data to cybercriminals infiltrating information systems, stealing sensitive data, and disrupting services?
Well, the answer is a clear "No."
Companies are not in a mood to let their valuable data fall into the wrong hands any further. As they grapple with preventing data breaches, companies are increasingly looking for security professionals in the cybersecurity and cloud security domain to keep companies' data safe.
To address this growing demand of security professionals and to make your way into a rewarding career, here are the five best practices to follow:
1.Explore the Possibilities

Source: Giphy
When we talk about a career in cybersecurity, it does not only refer to the job role of a hacker. The domain offers ample opportunities to professionals with many different talents and abilities. Everyone working in the security department of an organization does not need to be an ethical hacker. So, if you are thinking to make a career in security, you must explore the myriad of career tracks that are available in the field.
2.Know Your Technical Interests

Source: Giphy
The security domain is vast, covering different areas of specialization and possibilities. A single individual cannot learn everything and master every skill set. Hence, it is recommended that you research job titles and focus on a particular technical niche that is of interest to you. According to your technical interest and expertise, you can select which field in the security technology you want to get into.
3.Build Industry Connections

Source: Giphy
Job search in a new industry without any contacts and guidance is challenging. Whether it's through a co-worker, via LinkedIn, or a friend-of-a-friend, you need to start building connections in the industry for support and learning. You can follow industry leaders on different social media platforms and attend their webinars to stay up to date on the latest technological changes. Also, you can join online communities related to your career interest to expand your network and industry reach.
4.Work on your Soft Skills

Source: Giphy
For each position that you are aiming for, there will be a set of required skills. These can be divided into hard and soft skills.
No matter which positions you apply for, to do the job well you need to have both hard skills and soft skills. Through training and study, you may master hard skills which include technical skills but what you may lack is soft skills. You need to work on your soft skills to work in the security domain as during the job you might need to communicate technical ideas to a non-technical person. The ability to work in a team comes through soft skill building which makes it a must-have for every professional.
5.Get Certified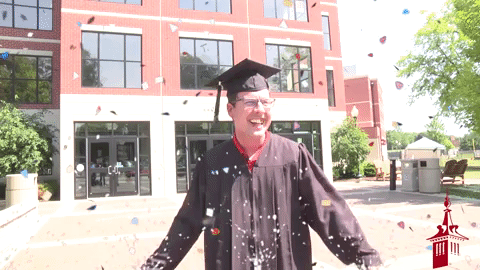 Source: Giphy
As the pandemic continues to unfold even in 2021, leading to more data breach incidents, a career in the security domain is the most sought-after option. However, to build a successful career, candidates need to acquire in-depth training and knowledge through specific certifications in security.
For candidates willing to unleash career opportunities in cloud security, Microsoft Azure security certifications can be of great help. In addition to the existing certifications on security technologies, Microsoft has recently launched a new portfolio of security certifications which includes – one Fundamentals certification and three new Associate certifications as follows:
Wrapping Up
From Network security engineers to Cloud security engineers, security architects, and security consultants, the demand for security experts in different specialized job roles is skyrocketing. Getting certified in Azure security technology can help you get employed in your dream job with lucrative pay. Moreover, you can make your efforts count in protecting the information technology systems of your organization from cybercriminals taking advantage of the COVID-19 chaos the world is currently going through.
But getting certified isn't easy. You need to undergo proper training that can help you build skills and acquire the right knowledge necessary to clear the Azure security certification exam successfully. To get started, you can enrol for a certification training course offered by CloudThat, a leading Cloud training and consulting firm in the industry. With offices spread across the globe including UK, the USA, Africa, and India, CloudThat has trained over 350K+ IT professionals from Fortune 500 companies on technologies such as Microsoft Azure, Amazon Web Services, Artificial Intelligence, Machine Learning, Google Cloud, IoT, OpenStack, OpenShift, DevOps, MongoDB, Big Data and more.
However, remember that focusing on gaining professional knowledge and training alone will not be sufficient. Enhancing your expertise and skillset through networking with industry experts, attending webinars and workshops can be an excellent option to acquire the desired experience in the field.
---